Leading sportswear manufacturer Game Clothing is pleased to announce the signing of two exciting brand ambassadors and professional athletes, Laura Langman & Stephanie Wood.
The partnership will extend over the next twelve months and will bring together a proudly Australian owned & operated business who has been in operation for over 24 years and two highly successful professional athletes' who have both represented their respective countries & participate in the strongest netball competition in the world.
Laura & Stephanie both epitomise all the qualities valued by Game Clothing and their role as ambassadors will include designing and developing garments, promoting products and a variety of exciting social media activations.
Mellissa Pashen, Director of Game Clothing is thrilled with this partnership, "Aligning our brand with these two outstanding women & athletes is a highlight for our business, we are looking forward to working together & especially introducing an exciting new range of clothing based on their in depth knowledge & experience."
Laura Langman is one of the most respected and recognised athletes in Netball, she is widely known for her exceptional precision and supreme fitness on the court and her values and ethics off the court. "The opportunity to become part of the Game Clothing team and work closely on creating and promoting the high quality locally produced garments whilst inspiring the community to participate in sport is an exciting new adventure and I can't wait to get started."
Stephanie Wood is one of the hottest new talents on the Australian Netball scene, Stephanie worked her way up through the ranks with true determination & did all the right things to get her chance at professional Netball. After debuting a few years ago, she hasn't looked back & has become quite a success story. Stephanie is a local Queensland girl who was a member of the Game Clothing staff prior to launching her career. "I have always been part of the Game Clothing family & with a complete understanding of the business first hand and a passion for fun, fitness & health I look forward to supporting Game who have always supported me."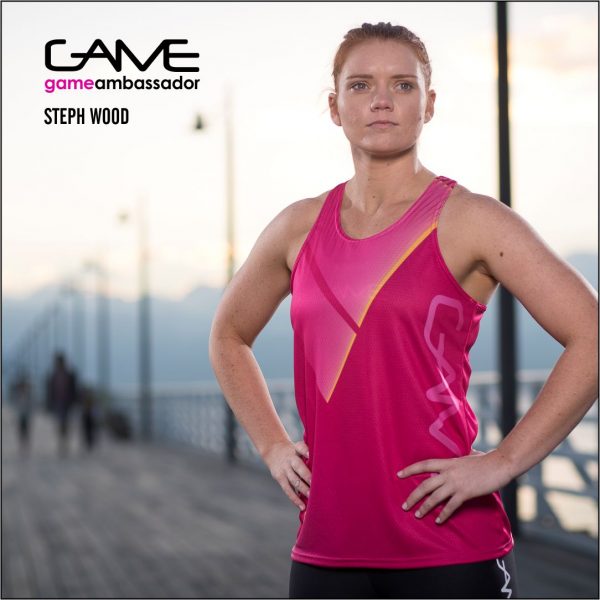 The new ambassadors have already planned an adventurous video blog so stay tuned for more news and announcements.