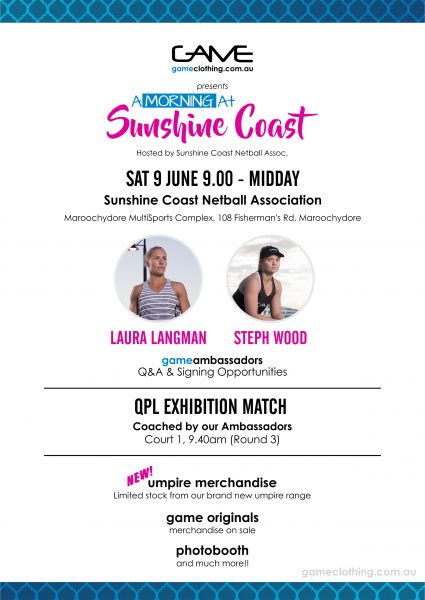 Meet GAME Ambassadors, Laura Langman and Steph Wood with "A Morning at Sunshine Coast" this Saturday 9 June 2018.
Hosted by Sunshine Coast Netball Association, Laura and Steph will be Guest Coaches during a QPL Exhibition Match during Round 3 of Saturday morning fixtures as well as holding a Q&A with fans, signing autographs and taking selfies.
GAME Clothing will also launch it's new range of umpire clothing; 'GAME Umpires', during the event.
Formalities will run from 9am until Midday at Sunshine Coast Netball Association, Maroochydore MultiSports Complex, 108 Fisherman's Rd, Maroochydore.
'GAME Umpires' go on sale from 9am at gameclothing.com.au with limited 'GAME Originals' and 'GAME Umpires' stock on sale at the event.